If you Google "dumps Tiger," half of the front page listings deal with the Accenture corporation. They officially cut ties with him in December 2009, giving a crisp send off in this press release (emphasis added):
Accenture Sponsorship Update

NEW YORK; Dec. 13, 2009 – Accenture (NYSE: ACN) today announced that it will not continue its sponsorship agreement with Tiger Woods.

For the past six years, Accenture and Tiger Woods have had a very successful sponsorship arrangement and his achievements on the golf course have been a powerful metaphor for business success in Accenture's advertising.

However, given the circumstances of the last two weeks, after careful consideration and analysis, the company has determined that he is no longer the right representative for its advertising. Accenture said that it wishes only the best for Tiger Woods and his family.

Accenture will continue to leverage its "High Performance Business" strategy and "High Performance Delivered" positioning in the marketplace. The company will immediately transition to a new advertising campaign, with a major effort scheduled to launch later in 2010.
 
Can you even imagine the buzz going on behind the scenes as they rushed to get their campaign going? I have to say that I am a little shocked in where they took their corporate image in only a few months. I saw the first large ad from the campaign in the Dallas-Ft. Worth International Airport in January: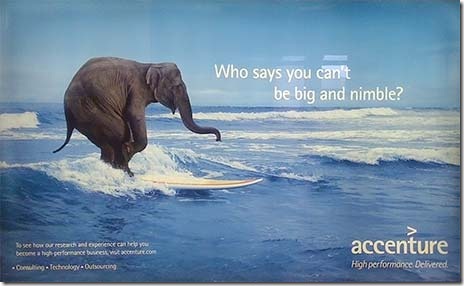 What are they thinking? Even beyond my usual critique of overusing paradise to advance any and every possible endeavor, do you really want to tell people that you're a big soaking wet elephant? Is that your new "powerful metaphor for business success"? And at a time when the biggest political slogan going around is "too big to fail." Who did this to you? At least they chose a smart animal.
There are more images worldwide in the campaign. The surfing elephant is being used at least in Sweden, Norway, Japan, the UK, and the US. I found six additional images in the campaign. The predominant image for France and some other countries was an elephant being nimble in a more normal setting. It looks leaner too from that angle (a little perspective and liquify go a long way in Photoshop, although it looks a little flat):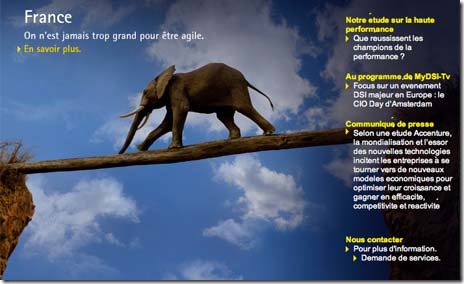 The other ad that they chose for France was a bunch of leaping frogs (I'm not sure that they chose this image in thinking specifically about France (given the leapfrogging metaphor in English), but they lost part of the franco-message they were sending):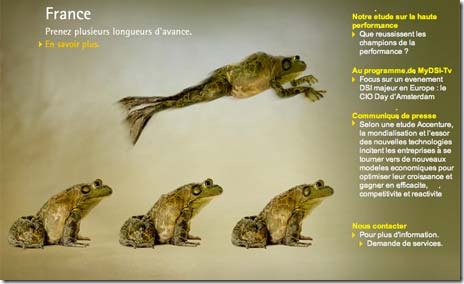 Then several countries, especially the Scandinavian and South American countries, feature predominantly this Photoshopped shark-shaped school of fish: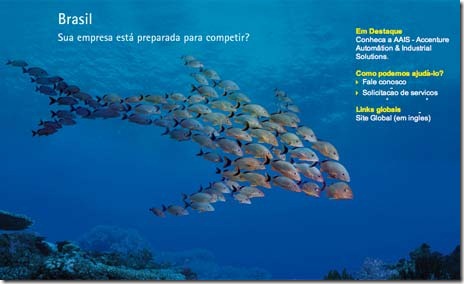 There is also a little rain forest escape action going on for several of the  countries. Here is China's page: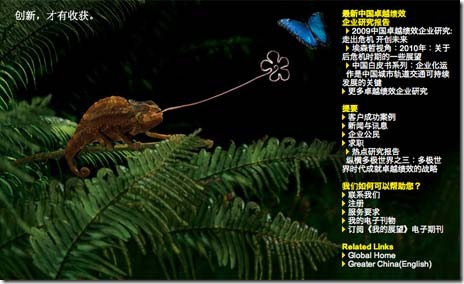 The elephant is notably omitted from the Thailand site, the only country I found to feature this cyclist: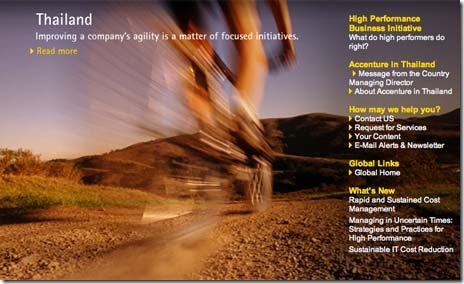 The other image for Thailand was this climber (perhaps the most French-looking of all the images):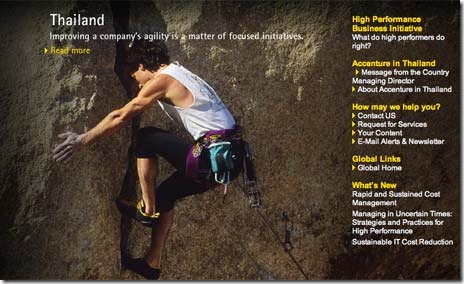 These consulting companies tell their clients to diversify their risk appropriately, but then they ignore their own advice and put all of their visual resources into one human asset. To make a cleaner escape from the Tiger drama, Accenture could use their resources to take a group of relatively unknown talented individuals engaging in obscure activities and really showcase the world that is out there beyond golf and scuba. They could get 20 for the price one. For example, it's a shame that we don't know if that climber is more than just a stock photo. Instead, they went from big-name golf to surfing elephants, revealing their escapist tendencies. Let's hope their customers don't also try to escape from them.
In hunting through their website, I found a number of other documents that seem to indicate that they're really into their paradise. My favorite was their Finance & Performance Management Services booklet, which is full of underwater imagery similar to this cover shot: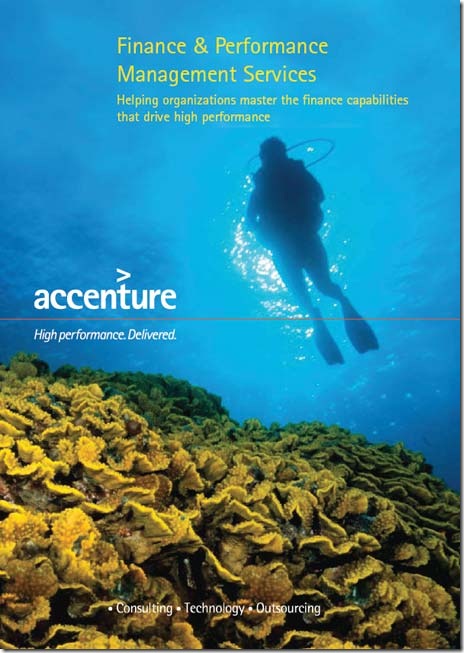 I only found one document that truly focused on an image and metaphor that dealt with the topic at hand.  It was a brochure for their automotive consulting services, and they chose a car theme throughout: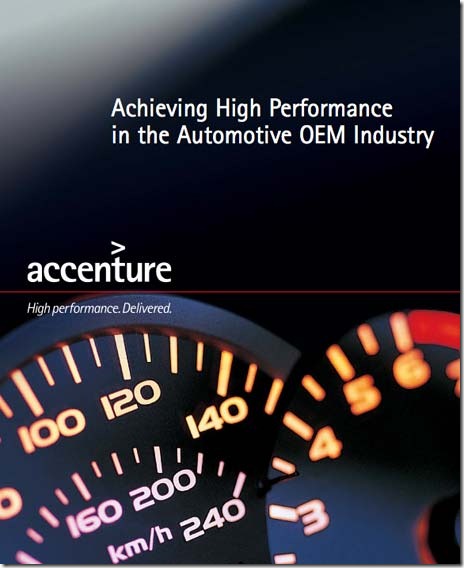 Finally, they got one right.
I won't even go into the nautical and anti-paradise discussion about other parts of their site. The images are everywhere. Can you guess what this one is for?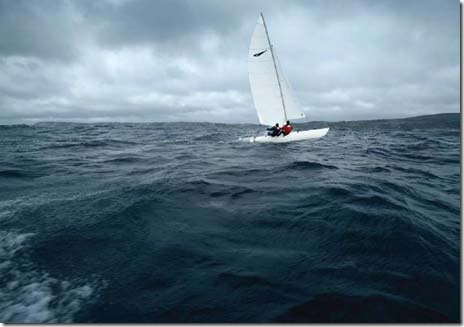 It's from the brochure "Managing through Challenging Times: A Communications Industry Perspective." Of course, right?
Will there be sunny days for Accenture without Tiger?
- - - -
Posted on February 17, 2010
Filed Under Advertising, Automobiles, Business and Commerce, Cultural Symbols, Diving, Fish, Golf, Sailboats, Sea and Oceans, Sharks, Technology | 2 Comments
Comments