I was looking through the Accenture brochure on "Finance & Performance: Management Services," and I couldn't help but comment on this particular image from their Risk Management Practice: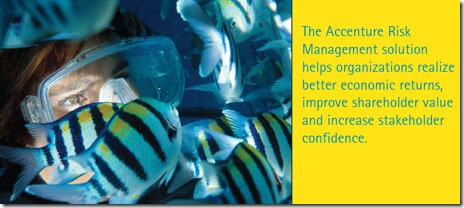 First off, it almost looks like the woman is not underwater at all, as if she were standing next to a reflective tank. The quality, clarity, and color of her illuminated face is the same both inside and outside of her mask, which is clear of water, fog, and debris (all certainly Photoshoppable). And why is the light shining on her face at the edge of her dry-looking hair instead of the awfully friendly fish? Finally, what does this image have to do with Risk Management?
The idea that diving is supposedly risky is probably the metaphor here, but their clients are not standing around next to aquaria. They're out deep. Is this a company that sits around all day dreaming about vacation, or is it valuable aid to businesses seeking their help? I'm assuming it's the latter, but the images projected from their brochures, booklets, and websites say otherwise.
You want a metaphor for what businesses are up against? Try using the Congo Tiger Fish. Help your customers manage this risk, and you've got yourself some risk-management cred:
Alas, Accenture will probably not be hiring a Tiger-anything for a long time.
Comments