The CSX freight map web ad has been around for a while now. The animation starts in Baltimore and draws your eye along the freight line all the way up the eastern seaboard to Boston. It's hard not to watch where it's taking you. The approach is a compelling way to illustrate just how efficient trains are in comparison to 18-wheeler hauling. I actually have watched the ad numerous times, even though I know where it's going.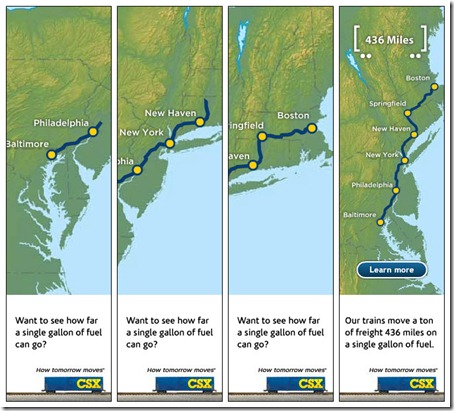 While on the CNN website, I noticed that at least two more ads in the series are floating around. One of them has the monotonous bumper-to-bumper traffic followed by a nice, clean scenic highway—all thanks to freight trains. Funny that there are only two semis in the first image. I'm not sure that this clean, mountain air idea works so well for the company.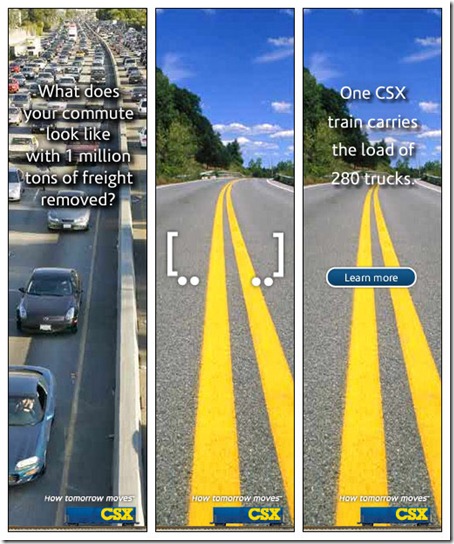 The third ad to appear in the same location on CNN's Politics page was this beach scene, which caught my eye immediately: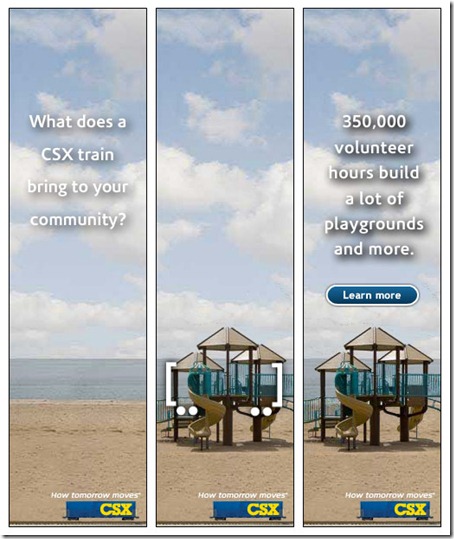 For as much as I have seen the first ad above, it must have created some success. I wonder why they felt that they needed to create these two additional versions. I like the attempt to find the company's " emoticon" logo in oddly shaped objects, but it seems a little forced in the playground case.
When all else fails, throw in a beach, add a place to send the kids to wind down while parents relax, and dash in a bit of community service. How great is rail freight, huh!? Shipping your cargo on a train magically causes playground equipment to appear on the beach.
While I applaud the effort to do more for the community, I wonder if the second two ads will not be terribly effective just because they blend so well into images that we see with every other product and service. The second ad looks like something you would see on the back of a landscape architecture magazine next to the fake-stone pavers. Stick with the map ad, CSX. It's fantastic, and there's a lot more you could show to people as their eyes are fixated on that blue path.
And if you think that maybe there isn't some underlying corporate beach ideology behind the choice of ads, you may want to visit the CSX website to see the nice little image of the man running across the beach: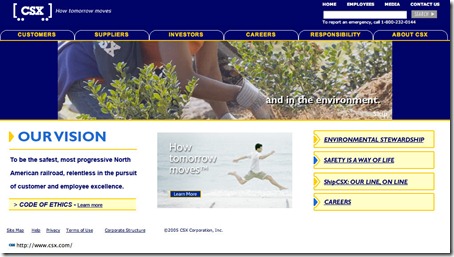 Apparently, the wave of How tomorrow moves™ is leaping into the air with our arms and legs flailing before crashing into the sand. Who's in?
Finally, as a small public service announcement, use trains to ship your cargo. It really is better for the world (for now).
Comments