One of the more recent humorous email forwards traveling around contains photos of dead flies with pencil sketches drawn around them to place them in various settings. There are two out of nine (from a greater collection) in the email that I received that are Rapidsea ready. There's a simple pool scene: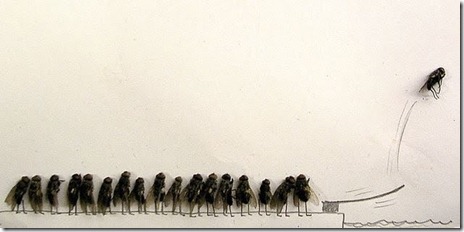 And then there's the flies sunbathing, presumably on a beach: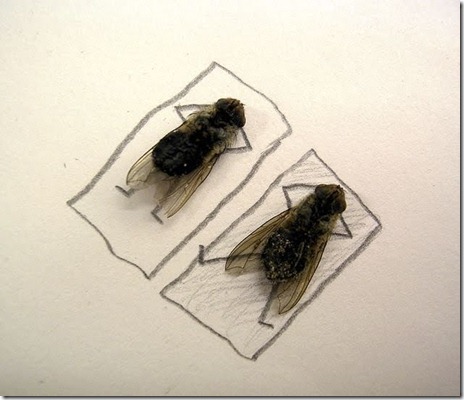 The email gives you instructions:
Some people are really bored at work.

Online games are not your only option –
1. Collect some dead flies from the office windowsills.
2. Put them in the sun to dry for one hour
3. Once they are dry, pick up a pencil and paper… Let your imagination run free
 
It's funny how when people are told to let their imaginations run free they end up on the beach. Finding a setting in which you exhibit "creativity" almost always ends with creations placed in a paradisiacal setting. Have we lost our ability to imagine place?
When emails like this one come around, I'm naturally inclined to look for whatever beachy images are included that people consider to be "creative." Paradise almost always finds a home in these images. Remember the cappuccinos?
If there are escapist images in the emails, I try to make my way back to the source to see what the creators themselves thought of their images. These photos are from a photographer and artist named Mangus Muhr from Sweden. The following screenshot is from his gallery's main page: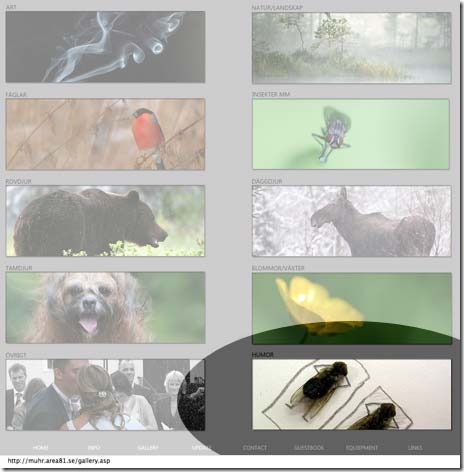 It's interesting to note that the dead-fly image he preferred to show is that of the flies on the beach. You can see more of his photos there.
If you see the email and forward it on, add his name into it so that he gets proper credit.
Comments