The devastation caused by the 2010 Chilean earthquake, which was 500 times as powerful as the recent Haitian earthquake, merits attention. Unfortunately, the US has been fixated on the tsunami that was headed for Hawaii. The possible destruction of various pieces of low-lying paradise upstaged the real tragedy of an earthquake felt for a thousand miles.
In the end, it seems that the water got a little murky near the Big Island, but that's it for Hawaii. Yet where is all the attention about the earthquake? News organizations like CNN and MSNBC couldn't stop drooling at the possible destruction heading for Hawaii. Look at the relative size of the images from  CNN's US homepage on the evening of February 27th directly concerning Chile: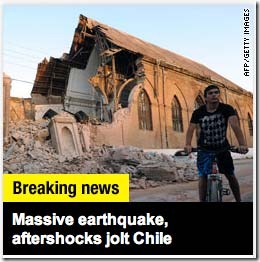 Here's the main video still image and headline in the center of the page to the right of the photo above (not playable):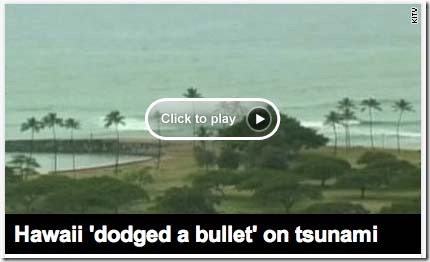 In a tiny headline below the smaller photo, they point out that currently 214 are known to have died. Does the country's attention really rest here? Even the respectable New York Times can't avoid making Hawaii part of its headline: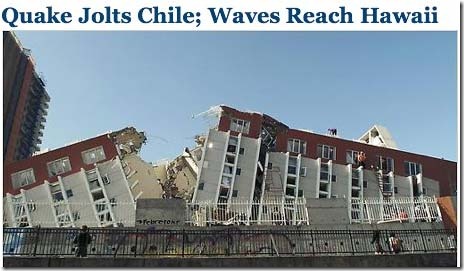 Let's hope the worl'd's largest swimming pool survived the earthquake. If not, that's all we're going to hear about for a week. It's in Chile—about 220 miles from the earthquake's epicenter:
If you are looking for a good charity to which you can make a useful donation, consider Doctors Without Borders. They have sent a team to assess the situation, and even if they deem that they are not needed to any great degree there, your money will be appropriately in places like Haiti.
Comments