CNN has had too many drivel moments lately, so I finally put their site into my site blocker on my router; it was liberating. They recently posted a series of nine "Best iPhone apps," as voted on by readers of a site called 148apps, and the "Best app ever [for 2009]" went to the kill-the-cute-island-inhabitants Pocket God game: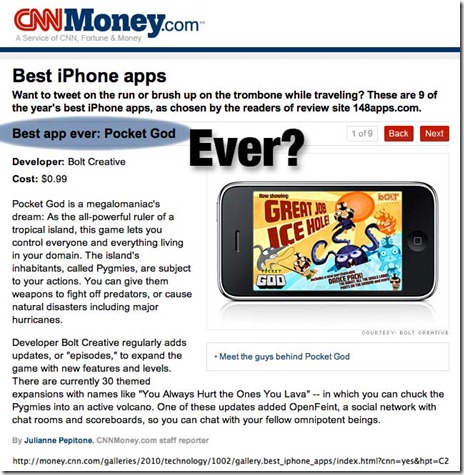 Why would they not even question whether or not this award was warranted? We can all appreciate a good pun here and there, but "Great Job Ice Hole" as an "episode" name (even if you can get away with it under Apple review, why would you)? And CNN features that screenshot as the only visual evidence of the "Best App ever," even if the image is used on the site Bestappever? At least they listed the challenge "You Always Hurt the Ones You Lava" in the brief review. These names are funny, if not absurd, to most people, but the game caused enough controversy to question whether or not there is a legitimate gripe against it.
Pocket God uses a variety of cliché symbols to create an environment that derives its attraction from people feeling just a bit naughty about the omnipotent infliction of pain on cute, and infinitely reproducible, people in an ideal setting. The idea, if distasteful to many and appalling to some, isn't inherently censorable in a free society. However, most of the game's detractors missed the real criticism it deserves. It's all about the incoherence of the collection of symbols.
Because images of island people and tropical symbols have become globally ubiquitous, people feel justified in defending the game by responding that the people and places are not specific to any one group or place—they are too generic. Individually, they are not generic at all, and over time the derivative symbols included in the game seem to be more and more from the African continent, which could open up the developers to new criticism if they're not careful.
I figured that I better know what I am talking about before I rate the game as "not the best app ever," so I bought it this weekend. I found that even though the company is called Bolt Creative, there isn't really that much visual creativity living in the game among the "pygmies" (the actual level of technical creativity in the programming and artwork is not at issue). Overall, the team employed a Hollywood-style approach of producing something with mass appeal using tired and cheap tricks. Even if the app were not a little racist, sometimes there is no honor in success derived from the "creativity" of cliché soup.
More specifically, the instructions are a drone. The icons are not clear unless you study page after page of them. You'll probably figure out on your own how to drop everything into the water, but beyond that the depth of game play is somewhat "touchy," feeling neither 2D nor 3D. Even Bolt's own YouTube broadcasts make the game feel awkward.
The game has none of the instant-fun and frustration of incredibly creative, simple, and thoughtful iPhone games like FlightControl, in which you have to play air traffic controller. Bolt may have even been inspired in some of their updates by FireMint, the Australian company that created the game. With that said, I wonder why FlightControl felt it necessary to introduce a tropical setting into one of their own updates: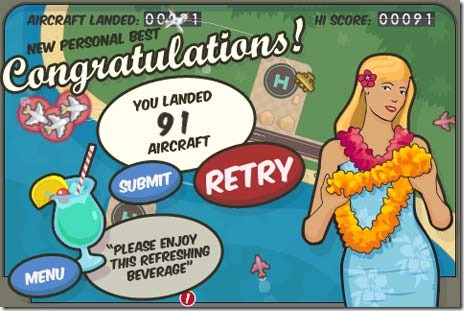 In defense of the dedicated developers and talented vector artists at Bolt Creative, the team deserves and have received praise for providing frequent expansive updates since the app was released in 2009, which is laudable, especially when compared to the bigger mainstream corporate games that milk their products for as long as possible without improving them substantially after purchase. They really listen to their customers.
Bolt should be careful, however, in understanding just how important paradise was to their success. A similar game in an overused setting other than a tropical place would probably not be nearly as well received without true creativity in the world that is depicted.
Comments