Xerox is actively marketing their solid-ink printers through direct mail. I received a brochure with this oyster on the cover, which was obviously professionally printed: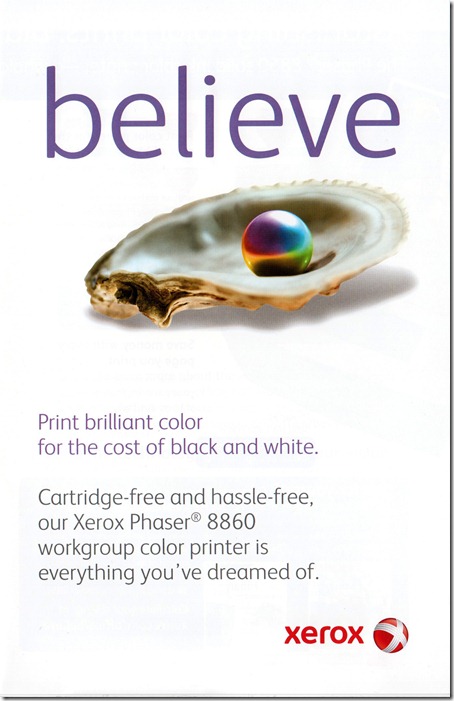 Inside the envelope was also this actual half-letter-sized print sample:
I went to the website to see if they were using a similar underwater world to push the products, but they seem to be focusing much more on the "green" aspects of the products, which supposedly produce much less waste. I wonder why they felt it necessary to push the pearl and mermaid theme in the mail. Perhaps people are more likely to open something paradisiacal.
The main PDF product brochure included these grassy globes on top of the printers: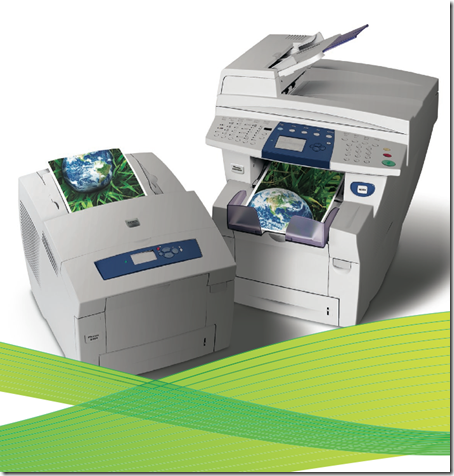 And elsewhere they show the stack of "waste" that comparable laser  printers produce with their non-solid, cartridge-based systems: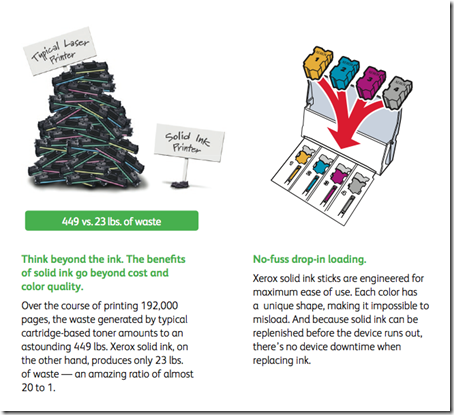 This assertion isn't exactly the most honest one since most laser printer manufacturers recycle their cartridges, usually for free. Of course, the shipping costs of getting them back and forth should also be factored into that analysis.
In terms of print quality, I would say that the color and saturation of the Xerox Phaser 8860 sample page was rather nice, but the image shows a certain level of grain upon closer inspection. Furthermore, at various angles in the light, you will see a 3D effect from the solid inks, somewhat similar to what you would see in a professional print job where there is a section of the image where the page shows through directly because there is no ink on it.
I use an older Konica Minolta laser printer that still does a great job. This week I noticed that there were some streaks in my printouts, and I started wondering if maybe it wasn't time to try out a Xerox Phaser. After I cleaned the lens, it was going strong again. So, I'll keep it for a while longer and will consider buying a similar model in the future if it ever goes down. It is one of the best overall values that I have ever had in a printer.
If you're considering buying a Xerox Phaser, I would say that if the company's claims of "color for the cost of black and white" hold true, then this would be a good printer for offices who want frequent color but don't need extremely high-quality definition. I picture professors using a printer like this for class notes and the like or presenters passing out Powerpoint notes printed on the Phaser.
Comments