Allow Rapidsea to be the first to predict the ecological uproar over the Bloom Box by Bloom Energy, a power-generating fuel cell stack that was revealed to the television world on 60 Minutes on February 21, 2010. The technological and economic doubters have already had their say, even before the product is fully revealed, but various groups of people will soon be running around in fear of losing their precious beaches to energy consumption. Why? Because "beach sand" is an ingredient in the fuel cells. Here it is in Petri dish: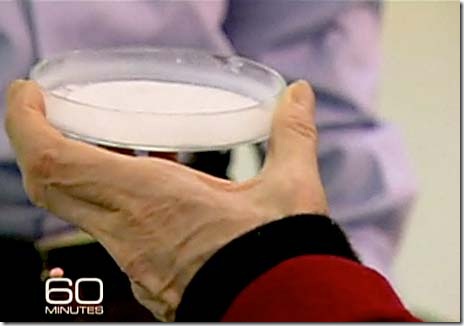 That's reporter Lesley Stahl's hand and Bloom Energy CEO K.R. Sridhar's purple shirt. Stahl started out the conversation by comparing the process of making the Bloom Box cell to cooking. Sridhar handed her this sand and referred to it as flour after graciously accepting her comparing him to Martha Stewart. He claimed that ocean beaches on every continent have the material "in abundance." Stahl goes on to say that the sand is turned "magically" into ceramic.
If the Bloom Box proves to be the most important improvement in electricity in decades, we may finally get to see if people value paradise more than energy. It could be a magnificent battle. At least that's the story that the conspiracy theorists will soon be forwarding to your crazy uncle. Just because you're paranoid doesn't mean that they're not going to steal your beaches in the night.
Of course, if they decide to use sand from a source other than beaches, then maybe the Bloomy meadow of the future will be bright. We still have to be honest with ourselves that we're still going to need to find a different source of energy other than fossil fuels like natural gas to meet our consumption demands no matter how efficient the device is.
The Internet is having fun again (still?) with sharks. The image that is popping up at various blogs and social networking sites is of a shark mounted over the door of a law office. The photo below was taken by William B. Folsom of the National Oceanic and Atmospheric Administration (NOAA), which is part of the US Department  of Commerce: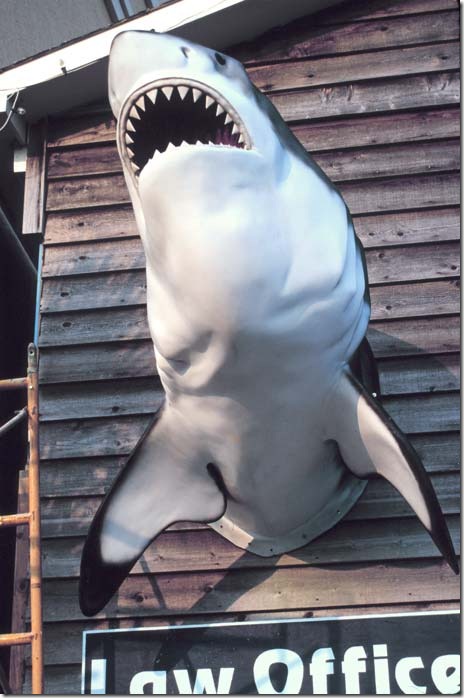 The image is from the NOAA America's Coastlines Collection, and the law office itself is located in Folly Beach, South Carolina. It's the "beach" office of attorneys D. Keith Bolus and Michael Tommy Bolus located at 23½ Center Street. They specialize in "personal injury, criminal defense, and DUI cases," and their visual message screams loud and clear. They also have an office in North Charleston. Their shark is featured in a small photo on this "Locate Us" page of their website.
In other versions of the image floating around, you can get a better sense of the setting that the building sits in. No Google Street View cameras have rolled by yet.
I was looking through the Accenture brochure on "Finance & Performance: Management Services," and I couldn't help but comment on this particular image from their Risk Management Practice: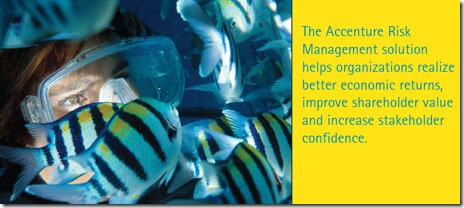 First off, it almost looks like the woman is not underwater at all, as if she were standing next to a reflective tank. The quality, clarity, and color of her illuminated face is the same both inside and outside of her mask, which is clear of water, fog, and debris (all certainly Photoshoppable). And why is the light shining on her face at the edge of her dry-looking hair instead of the awfully friendly fish? Finally, what does this image have to do with Risk Management?
The idea that diving is supposedly risky is probably the metaphor here, but their clients are not standing around next to aquaria. They're out deep. Is this a company that sits around all day dreaming about vacation, or is it valuable aid to businesses seeking their help? I'm assuming it's the latter, but the images projected from their brochures, booklets, and websites say otherwise.
You want a metaphor for what businesses are up against? Try using the Congo Tiger Fish. Help your customers manage this risk, and you've got yourself some risk-management cred:
Alas, Accenture will probably not be hiring a Tiger-anything for a long time.
If you Google "dumps Tiger," half of the front page listings deal with the Accenture corporation. They officially cut ties with him in December 2009, giving a crisp send off in this press release (emphasis added):
Accenture Sponsorship Update

NEW YORK; Dec. 13, 2009 – Accenture (NYSE: ACN) today announced that it will not continue its sponsorship agreement with Tiger Woods.

For the past six years, Accenture and Tiger Woods have had a very successful sponsorship arrangement and his achievements on the golf course have been a powerful metaphor for business success in Accenture's advertising.

However, given the circumstances of the last two weeks, after careful consideration and analysis, the company has determined that he is no longer the right representative for its advertising. Accenture said that it wishes only the best for Tiger Woods and his family.

Accenture will continue to leverage its "High Performance Business" strategy and "High Performance Delivered" positioning in the marketplace. The company will immediately transition to a new advertising campaign, with a major effort scheduled to launch later in 2010.
 
Can you even imagine the buzz going on behind the scenes as they rushed to get their campaign going? I have to say that I am a little shocked in where they took their corporate image in only a few months. I saw the first large ad from the campaign in the Dallas-Ft. Worth International Airport in January: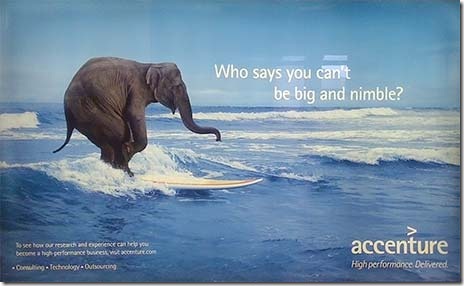 What are they thinking? Even beyond my usual critique of overusing paradise to advance any and every possible endeavor, do you really want to tell people that you're a big soaking wet elephant? Is that your new "powerful metaphor for business success"? And at a time when the biggest political slogan going around is "too big to fail." Who did this to you? At least they chose a smart animal.
There are more images worldwide in the campaign. The surfing elephant is being used at least in Sweden, Norway, Japan, the UK, and the US. I found six additional images in the campaign. The predominant image for France and some other countries was an elephant being nimble in a more normal setting. It looks leaner too from that angle (a little perspective and liquify go a long way in Photoshop, although it looks a little flat):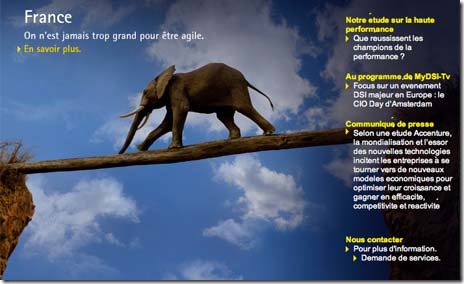 The other ad that they chose for France was a bunch of leaping frogs (I'm not sure that they chose this image in thinking specifically about France (given the leapfrogging metaphor in English), but they lost part of the franco-message they were sending):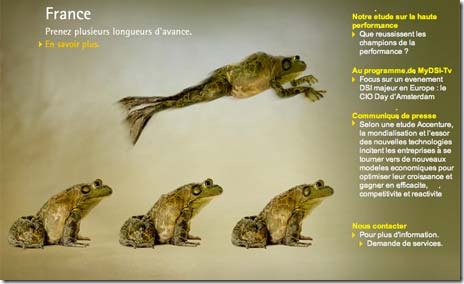 Then several countries, especially the Scandinavian and South American countries, feature predominantly this Photoshopped shark-shaped school of fish: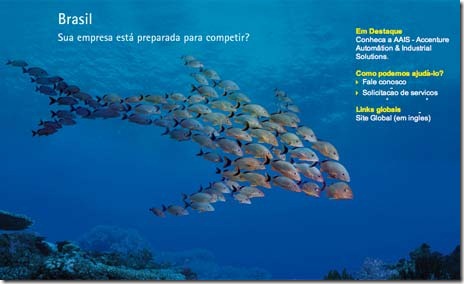 There is also a little rain forest escape action going on for several of the  countries. Here is China's page: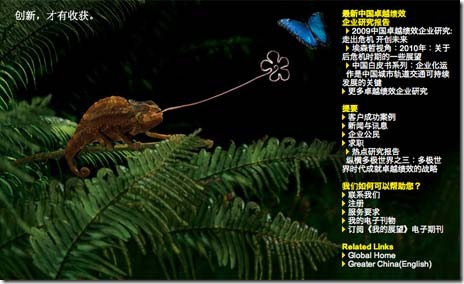 The elephant is notably omitted from the Thailand site, the only country I found to feature this cyclist: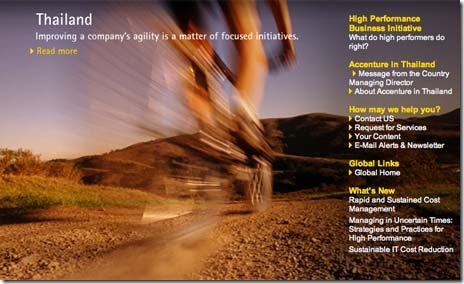 The other image for Thailand was this climber (perhaps the most French-looking of all the images):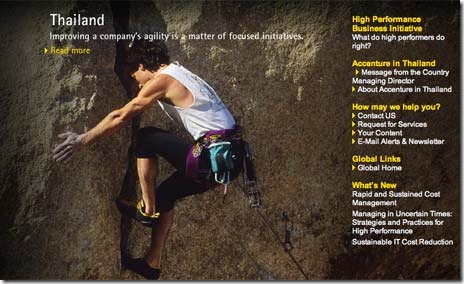 These consulting companies tell their clients to diversify their risk appropriately, but then they ignore their own advice and put all of their visual resources into one human asset. To make a cleaner escape from the Tiger drama, Accenture could use their resources to take a group of relatively unknown talented individuals engaging in obscure activities and really showcase the world that is out there beyond golf and scuba. They could get 20 for the price one. For example, it's a shame that we don't know if that climber is more than just a stock photo. Instead, they went from big-name golf to surfing elephants, revealing their escapist tendencies. Let's hope their customers don't also try to escape from them.
In hunting through their website, I found a number of other documents that seem to indicate that they're really into their paradise. My favorite was their Finance & Performance Management Services booklet, which is full of underwater imagery similar to this cover shot: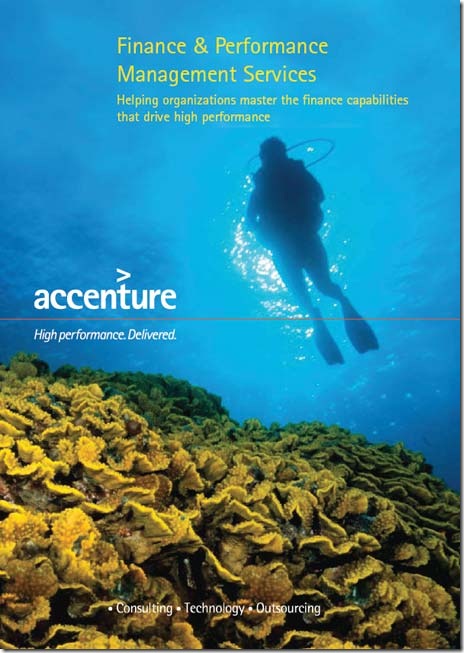 I only found one document that truly focused on an image and metaphor that dealt with the topic at hand.  It was a brochure for their automotive consulting services, and they chose a car theme throughout: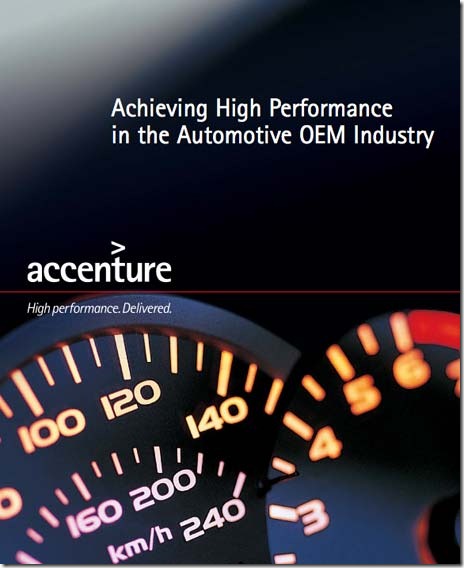 Finally, they got one right.
I won't even go into the nautical and anti-paradise discussion about other parts of their site. The images are everywhere. Can you guess what this one is for?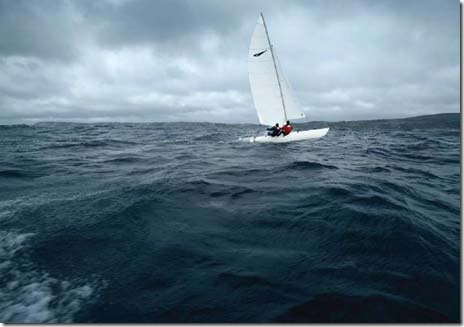 It's from the brochure "Managing through Challenging Times: A Communications Industry Perspective." Of course, right?
Will there be sunny days for Accenture without Tiger?
« go back
—
keep looking »