There is so much that can and cannot be said about the Emerald Nuts and Pop Secret popcorn commercial from the February 2010 Super Bowl:
Even the manipulation of paradise can be manipulated. I'm guessing that this commercial will end up a success. It's definitely the most memorable of the paradise commercials from the Super Bowl, standing out among ads like those that made fun of Lost that floundered. Emerald and Pop Secret, you are nuts.
One of the more recent humorous email forwards traveling around contains photos of dead flies with pencil sketches drawn around them to place them in various settings. There are two out of nine (from a greater collection) in the email that I received that are Rapidsea ready. There's a simple pool scene: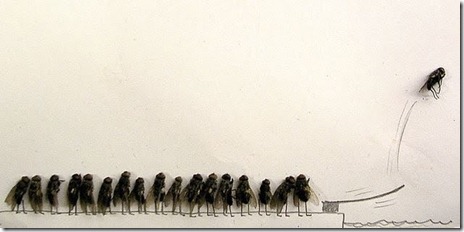 And then there's the flies sunbathing, presumably on a beach: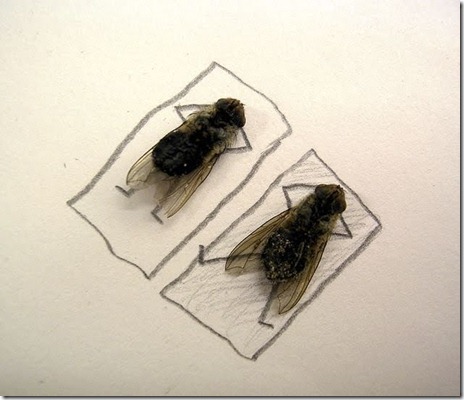 The email gives you instructions:
Some people are really bored at work.

Online games are not your only option –
1. Collect some dead flies from the office windowsills.
2. Put them in the sun to dry for one hour
3. Once they are dry, pick up a pencil and paper… Let your imagination run free
 
It's funny how when people are told to let their imaginations run free they end up on the beach. Finding a setting in which you exhibit "creativity" almost always ends with creations placed in a paradisiacal setting. Have we lost our ability to imagine place?
When emails like this one come around, I'm naturally inclined to look for whatever beachy images are included that people consider to be "creative." Paradise almost always finds a home in these images. Remember the cappuccinos?
If there are escapist images in the emails, I try to make my way back to the source to see what the creators themselves thought of their images. These photos are from a photographer and artist named Mangus Muhr from Sweden. The following screenshot is from his gallery's main page: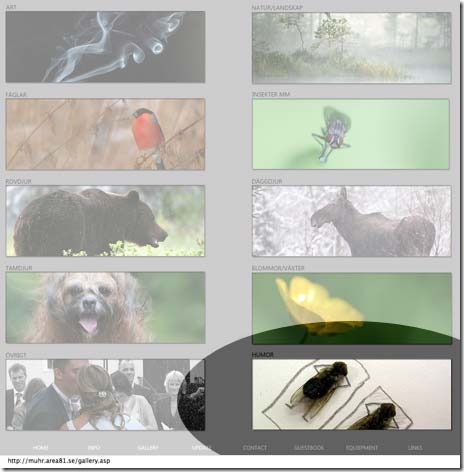 It's interesting to note that the dead-fly image he preferred to show is that of the flies on the beach. You can see more of his photos there.
If you see the email and forward it on, add his name into it so that he gets proper credit.
CNN has had too many drivel moments lately, so I finally put their site into my site blocker on my router; it was liberating. They recently posted a series of nine "Best iPhone apps," as voted on by readers of a site called 148apps, and the "Best app ever [for 2009]" went to the kill-the-cute-island-inhabitants Pocket God game: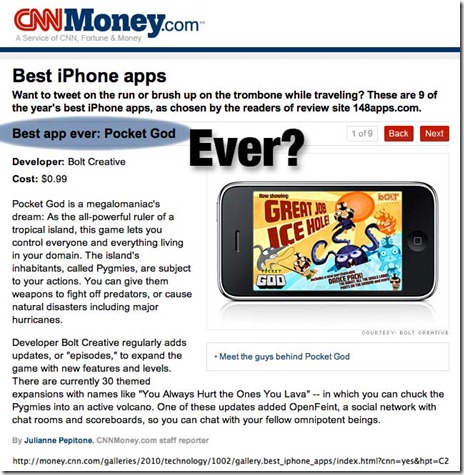 Why would they not even question whether or not this award was warranted? We can all appreciate a good pun here and there, but "Great Job Ice Hole" as an "episode" name (even if you can get away with it under Apple review, why would you)? And CNN features that screenshot as the only visual evidence of the "Best App ever," even if the image is used on the site Bestappever? At least they listed the challenge "You Always Hurt the Ones You Lava" in the brief review. These names are funny, if not absurd, to most people, but the game caused enough controversy to question whether or not there is a legitimate gripe against it.
Pocket God uses a variety of cliché symbols to create an environment that derives its attraction from people feeling just a bit naughty about the omnipotent infliction of pain on cute, and infinitely reproducible, people in an ideal setting. The idea, if distasteful to many and appalling to some, isn't inherently censorable in a free society. However, most of the game's detractors missed the real criticism it deserves. It's all about the incoherence of the collection of symbols.
Because images of island people and tropical symbols have become globally ubiquitous, people feel justified in defending the game by responding that the people and places are not specific to any one group or place—they are too generic. Individually, they are not generic at all, and over time the derivative symbols included in the game seem to be more and more from the African continent, which could open up the developers to new criticism if they're not careful.
I figured that I better know what I am talking about before I rate the game as "not the best app ever," so I bought it this weekend. I found that even though the company is called Bolt Creative, there isn't really that much visual creativity living in the game among the "pygmies" (the actual level of technical creativity in the programming and artwork is not at issue). Overall, the team employed a Hollywood-style approach of producing something with mass appeal using tired and cheap tricks. Even if the app were not a little racist, sometimes there is no honor in success derived from the "creativity" of cliché soup.
More specifically, the instructions are a drone. The icons are not clear unless you study page after page of them. You'll probably figure out on your own how to drop everything into the water, but beyond that the depth of game play is somewhat "touchy," feeling neither 2D nor 3D. Even Bolt's own YouTube broadcasts make the game feel awkward.
The game has none of the instant-fun and frustration of incredibly creative, simple, and thoughtful iPhone games like FlightControl, in which you have to play air traffic controller. Bolt may have even been inspired in some of their updates by FireMint, the Australian company that created the game. With that said, I wonder why FlightControl felt it necessary to introduce a tropical setting into one of their own updates: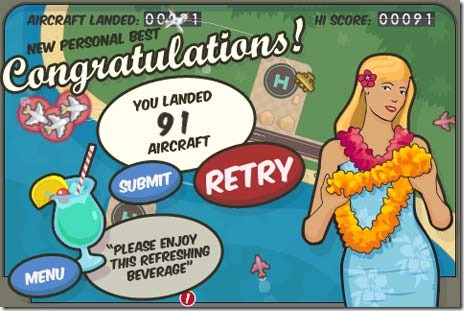 In defense of the dedicated developers and talented vector artists at Bolt Creative, the team deserves and have received praise for providing frequent expansive updates since the app was released in 2009, which is laudable, especially when compared to the bigger mainstream corporate games that milk their products for as long as possible without improving them substantially after purchase. They really listen to their customers.
Bolt should be careful, however, in understanding just how important paradise was to their success. A similar game in an overused setting other than a tropical place would probably not be nearly as well received without true creativity in the world that is depicted.
Since the diagnosis of my own mother with breast cancer several years ago, I have paid keen attention to the many charitable organizations soliciting funds for cancer research, prevention, and care, particularly those that use Rapidsea imagery to do it. Charities love to use oceans and beaches to extend the warm feeling of giving to their donors.
This week alone, two separate cancer-fighting groups sent along lighthouse and seashell labels in the mail (one using the ethically questionable nickel trick to get people to open the envelope). I question the efficacy of these now ubiquitous mailings. The one with the nickel refused to even identify the organization on the outside of the envelope. It seems that direct mail marketers have at once both saved and destroyed the giving process. Not all charities operate the same.
One group that has been very successful at bringing growing awareness to the world about breast caner is the Susan G. Komen Breast Cancer Foundation. I would argue that the success of the group depends largely on two key initiatives: 1) using people's networks to bring groups physically together to share stories and provide moral support for those affected by breast cancer both directly and indirectly, and 2) branding the foundation with bright pink.
The Komen Foundation is one of the few non-profit groups that have carried out a major corporate-like branding effort with a single color, and they bring a ton of people together to stand out wearing it. Because of these successes, I wonder why they have gone in another visual direction with a recent campaign in cooperation with Ask.com, in which several pink balloons roll by on the main Ask.com site encouraging you to "peel" back the page: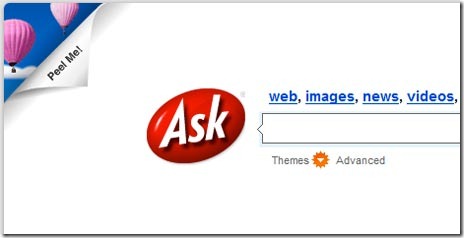 Once you do, you are offered the chance to change your background theme and to join the cancer-fighting cause: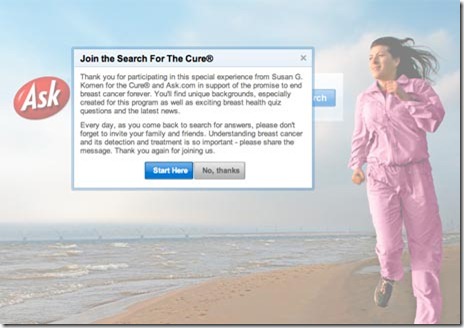 If you hit "Start Here," you get this new homepage with arcs of clouds, sand, water, and a triumphant half-smile (click to enlarge):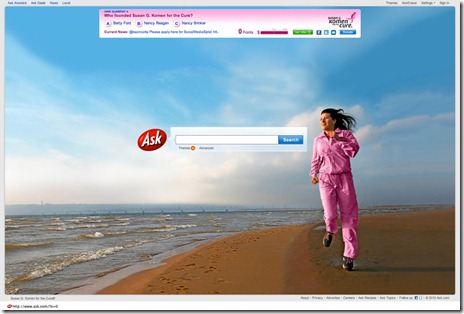 It immediately reminded me of the Make-a-Wish airport billboard. It's an interesting take on the usual beach wallpaper, but in the end it isn't the beach that makes the image. The woman in pink does. And the element that is lacking from the image is the organization's first point of success that I brought up above: more than one person running together. I think this image has a rather lonely, tiny-being theme to it. I would assume that they wanted to keep the woman's story somewhat ambiguous—whether a cancer survivor, supporter, or a family member left behind.
Perhaps they are trying to point out just how alienating having breast cancer can be, but I think about my own reasons for donating recently to the group. I did so because I believe that they are one of the most effective at illuminating the need to continue the fight and because I have been personally touched by the disease.
How can all of these charities take some of the images of escape and paradise and realistically portray what they mean in our physical world rather than trying to use media like pink hot air balloons to transport us all away from the reality of life? I think it comes down to telling people's stories and connecting with them, even if they have not been personally impacted by cancer or other diseases.
If you would like to donate to the foundation, you can reach them here. And if you're also looking for an amazing book on breast cancer that can help you make some of the very difficult decisions, we recommend Dr. Susan Love's Breast Book by Susan M. Love, M.D. with Karen Lindsey.  It is a 600-page, well-written and well-illustrated super course to get patients and their loved ones up to speed on research and options.  It also contains 34 dense pages of references at the end to back up the information they present if you want to read more of the technical side.
UPDATE: Two photos jumped out at me on the same Komen text-message donation page that perfectly sum up visually my point above:

The top image has so much emotion from two people. The bottom one looks like someone escaping free in the ocean (or worse, a Titanic bow ride). I am so much more compelled to donate because of the top one than the bottom one. Maybe the latter is just stock photography?
« go back
—
keep looking »